SPINAL DECOMPRESSION in West Fargo ND?

A variety of spinal problems in West Fargo ND can develop due to injury or natural degenerative processes, which can result in pain and limited mobility. Chiropractic care is a natural and non-invasive treatment that can help reduce your symptoms and improve your quality of life. In certain cases, chiropractors may utilize spinal decompression to relieve pressure on the spine, as well as the surrounding muscles and nerve. At Pinnacle Chiropractic and Rehab in West Fargo, ND, we offer this method of treatment to help our patients feel relief from back pain and improve their spinal health.
---
What Is Spinal Decompression?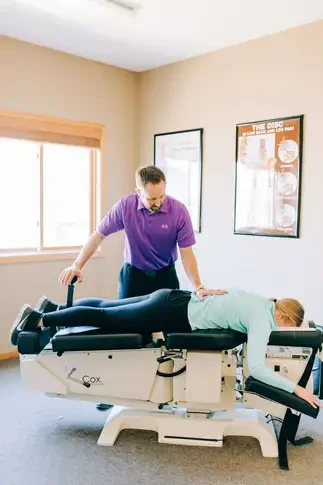 Non-surgical spinal decompression is a technique that uses specialized equipment to gently separate the vertebrae of the spine, which reduces pressure on discs and nerves. Along with that, it helps blood and nutrient freely flowy to the spinal structures. The technique involves the use of a motorized table that has multiple segments. These segments allow the device to gently pull and separate the spinal structures. The amount of traction and the angle of the pull are carefully controlled to provide the best results for each patient's needs.
---
Conditions Helped with Spinal Decompression in West Fargo ND
Our chiropractors may recommend spinal decompression for a variety of conditions, such as spinal stenosis, sciatica, and bulging discs. The treatment can also help degenerative spinal problems like arthritis or pinched nerves. Spinal decompression may also be applied to the cervical region of the spine to reduce headaches and neck pain.
---
What to Expect During Spinal Decompression Treatment
During a spinal decompression treatment, you will lie down on a table and our chiropractor will put a harness around your waist that is connected to a table with a pulley system. The table is then activated, which gently pulls the individual vertebrae apart. Our chiropractors will carefully regulate the force of the separation during the session. After the spinal decompression, you can return to your usual activities.
---
Contact us for an Appointment Today
At Pinnacle Chiropractic and Rehab, our chiropractors, Dr. Jenny Heidt and Dr. Jeremy Heidt, provide quality chiropractic care to patients in West Fargo, ND, and the neighboring communities. We treat various conditions, including herniated discs, scoliosis, headaches and migraines, sports injuries, and auto injuries. To learn more about the benefits of spinal decompression and to schedule your appointment, contact us at (701) 532-1699 today.
Monday
8:00am - 12:00pm
1:30pm - 5:30pm
---
Tuesday
10:00am - 12:00pm
1:30pm - 5:30pm
---
Wednesday
8:00am - 12:00pm
1:30pm - 5:30pm
---
Thursday
10:00am - 12:00pm
1:30pm - 5:30pm
---
Friday
8:00am - 12:00pm
---
Saturday & Sunday
Closed