Prenatal and Postpartum PREGNANCY in West Fargo ND

The body experiences various physical and physiological changes during pregnancy, culminating in back pain and other pregnancy-related symptoms. The good news is that chiropractic care can reduce pregnancy-related symptoms in West Fargo ND and even lead to a smooth delivery. Are you a pregnant mother in West Fargo ND looking for relief from uncomfortable symptoms like nausea and back pain? Additionally, do you want to experience the safest possible labor and delivery? If so, don't hesitate to contact our team at Pinnacle Chiropractic and Rehab, serving West Fargo and the surrounding areas.
---
Is Prenatal Chiropractic Care Safe in West Fargo ND?
Chiropractic assessment and treatment during pregnancy is a safe and effective approach to treating prevalent musculoskeletal symptoms that commonly strike during pregnancy. Chiropractic adjustments mitigate disruption in the nervous system and aid in balancing the pelvis, ligaments, and muscles. Additionally, any intra-uterine constraints are alleviated, allowing the free movement of the fetus, and reducing the potential of a breech birth. Ultimately, prenatal chiropractic is safe for the baby and the mother if done by a trained professional. We have an experienced chiropractic team at our clinic and state-of-the-art equipment to ensure a comfortable experience for pregnant women.
---
Benefits of Prenatal Chiropractic Care
It's crucial to note that chiropractic care during pregnancy does not only benefit women who are struggling with pain, but it also harbors both prenatal and postnatal benefits. Benefits of chiropractic care during pregnancy include:
Relieves back pain: Did you know that back pain is a common complaint among pregnant women? It's propagated by the loosening of joints and ligaments before the delivery. Chiropractic adjustments during the entire pregnancy period assist in alleviating pain or injury caused by spinal instability.
Reduces nausea: Chiropractic care can suppress cases of morning sickness and nausea during pregnancy. Our chiropractors reduce nausea and vomiting by focusing on spinal realignment, thus improving the functioning of the nervous system and maintaining hormonal balance.
Improves pelvic balance: Chiropractic care is crucial for putting the baby in an optimal position for a natural delivery. If concerned about a breech delivery, schedule an appointment with our chiropractors. Chiropractic care assists in maintaining pelvis balance, enabling the free movement of the baby into the correct birth position.
Injury avoidance: Chiropractic care enhances flexibility for pregnant mothers. Flexibility mitigates stress injuries that can sprout up as women adapt to their changing bodies.
THE BENEFITS OF POSTPARTUM CHIROPRACTIC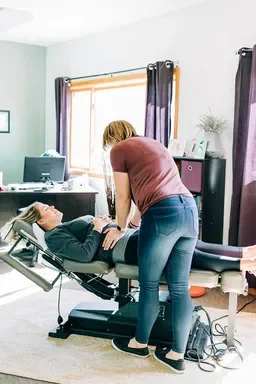 Following the birth of your baby, your body is in a state of healing. This healing process can be aided by a chiropractor properly trained in post-partum care. One of the foundational types of treatment used during this time will be spinal adjustment. The spine can be thrown out of alignment by pregnancy and by childbirth itself. In order to heal properly, it is good for the spine to be realigned.
Another helpful form of treatment during this time is soft tissue/muscle work. The muscles of the body have undergone extreme conditions. In the first few weeks following your baby's birth, you will spend a lot of time sitting and holding your child. This can also take a toll on the muscles of the arms, neck, and back. Soft tissue work in conjunction with adjustments can cut down on pain and soreness.
---
Other Services
Not only can our chiropractors help with the healing of the spine, and muscles, but we also work to heal your body. Through exercises focusing on healing your core and pelvic floor, we can help you regain stability to help protect your body while caring for your new baby.
---
Visit Us for Prenatal and Postpartum Care
Are you seeking a healthier and happier pregnancy journey in West Fargo ND? Don't hesitate to book an appointment with our prenatal chiropractors at Pinnacle Chiropractic and Rehab. Our team is dedicated to employing non-invasive therapies to offer a whole-body treatment approach to achieving total wellness goals during and after pregnancy. Contact us today to learn more about how we can help.
Monday
8:00am - 12:00pm
1:30pm - 5:30pm
---
Tuesday
10:00am - 12:00pm
1:30pm - 5:30pm
---
Wednesday
8:00am - 12:00pm
1:30pm - 5:30pm
---
Thursday
10:00am - 12:00pm
1:30pm - 5:30pm
---
Friday
8:00am - 12:00pm
---
Saturday & Sunday
Closed