COX-FLEXION DISTRACTION in West Fargo ND
For those who are suffering from short or long-term back pain or sciatica pain, finding relief is essential. No matter how active you are or what you do for a living, acute or chronic back pain or sciatica can wreak havoc on your personal and professional life. Here at Pinnacle Chiropractic and Rehab, we offer a special form of chiropractic treatment for spinal pain called the Cox Flexion Distraction Technique. Our office often sees patients who have seen other chiropractors, physical therapists, pain management doctors, or medical doctors with limited or no improvement and they benefit from Cox Flexion Distraction Technique in West Fargo ND.
---
What Is the Cox Technique in West Fargo ND?
The Cox Technique is a non-surgical hands-on technique that is used to relieve chronic pain in specific areas of the spine. This technique is used as a way to gently decompress the spine, alleviating bulging or herniated discs in both the lower back and/or neck. It also helps to reduce pressure on the nerves located in the spinal column. The Cox technique involves the use of a specialized table while applying specific amounts of manual forces to targeted areas of the spine in a smooth and rhythmic motion.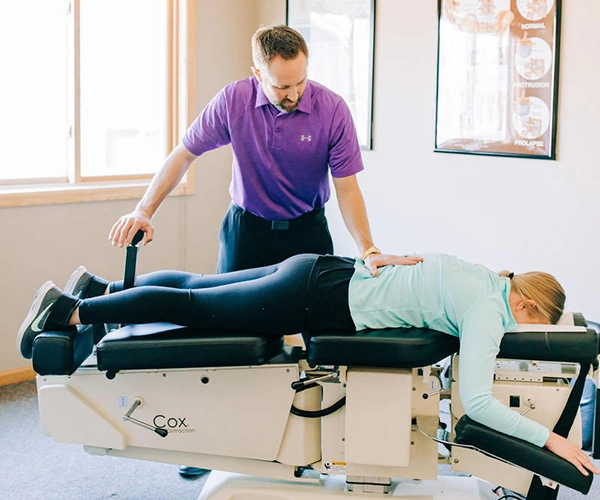 Benefits of Using the Cox Technique
If you are struggling with back pain or sciatica, then our team can help with the use of the Cox Technique. Some of the prominent benefits of using this technique are:
Dropping intradiscal pressure to as low as -192 mm Hg in the lumbar spine and 96 to 1583 mm Hg in the cervical spine
Reduces pressure on spinal nerves
Widening of the spinal canal area by 28%
Returning motion to spinal joints
---
Conditions Helped
The main goal of the Cox treatment is to get your pain from present to nonexistent. Using specific methods with the aid of the Cox treatment table, our team is able to manipulate the spine without the need of surgery. The Cox Technique is helpful for conditions causing low back pain and leg pain as well as neck pain and arm pain caused by the following conditions:
Herniated or bulging discs
Ruptured disc or protruded disc
Disc Degeneration
Sciatica
Facet syndrome
Loss of spinal range of motion
Stenosis
Spondylolisthesis
Post-Surgical Continued Pain (Pain after back surgery)
other conditions
MRI Images
If you have MRI images, Dr. Jeremy Heidt would be happy to review the images, correlate the images with your exam findings, and let you know your conservative treatment options.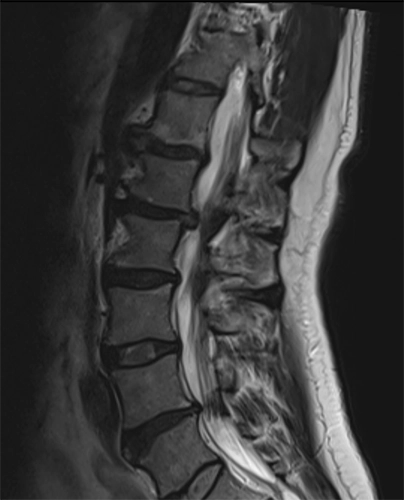 ---
Dr. Jeremy was interviewed on The Back Doctor's Podcast sharing cases of his patients treated with the Cox Technique
---
The Next Step is Scheduling an Appointment to See if You Are a Good Candidate to Benefit from the Cox Technique
If you live in the West Fargo, Fargo area or are a resident of North Dakota who is seeking a Cox Technique chiropractor, Dr. Jeremy Heidt at Pinnacle Chiropractic and Rehab is here to help. Dr. Jeremy Heidt is the only certified Cox treatment professional in North Dakota one of the 5% of chiropractors in the US that are certified in Cox Technique. Dr. Jeremy Heidt will assess your condition and develop a personalized treatment plan to address your pain.
You don't have to put up with back pain. Our team is here to help you live pain-free. If you live in the West Fargo or Fargo-Moorhead area, call us today to see how we can get you back to feeling great.
---
Don't continue to live with pain! Schedule an Appointment Today!
First Visit- $50
(Includes an Exam, Adjustment, and Cox Flexion Distraction Treatment).
Click Here to Schedule an appointment!
Insurance is accepted and can decrease the cost of the first visit.
To schedule an appointment online follow this link to our online scheduler or to give our clinic a call at (701) 532-1699 to schedule an appointment. If you have any questions you would like answered by Dr. Jeremy Heidt we would be happy to get them answered. (If our doctors are in with a patient or after hours, please leave a voicemail and they will return your call As Soon As Possible.)
Thank You and we look forward to meeting you!
Monday
8:00am - 12:00pm
1:30pm - 5:30pm
---
Tuesday
10:00am - 12:00pm
1:30pm - 5:30pm
---
Wednesday
8:00am - 12:00pm
1:30pm - 5:30pm
---
Thursday
10:00am - 12:00pm
1:30pm - 5:30pm
---
Friday
8:00am - 12:00pm
---
Saturday & Sunday
Closed