Back pain is a common ailment that affects people of all ages. There are many possible causes of back pain, including muscle or joint injuries, herniated disks, and spinal stenosis. While back pain can be debilitating and frustrating, we offer many ways to manage it at Pinnacle Chiropractic and Rehab in West Fargo, ND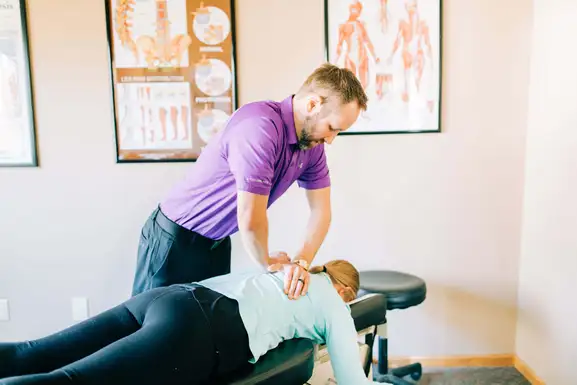 Causes of back pain
There are many possible causes of back pain, including:
Spinal Dysfunction: Abnormal movement and function of the spine can lead to lead to pain and stiffness
Herniated disk: a disk between the vertebrae can bulge or rupture, causing pain
Spinal stenosis: this is a narrowing of the spinal canal that can cause pain and numbness
Osteoarthritis: this is a degenerative joint disease that can lead to pain and stiffness
Fibromyalgia: this is a condition that causes pain and tenderness in the muscles
Scoliosis: this is a side-to-side curvature of the spine that can cause pain and deformity
Treatments for Back Pain
When you visit our chiropractor for back pain treatment, we will recommend one or more of the following treatment options depending on your specific condition:
Chiropractic Adjustments
Chiropractic treatment involves manual manipulation of the spine to relieve pain and improve function. It is often used with other treatments, such as soft tissue therapies, flexion distraction, and rehab.
Soft Tissue Therapies
Soft Tissue Therapies are often used to relieve pain, muscle tension and spasms, and increase blood flow. These therapies can include the Hypervolt, Cupping, or Graston Technique.
Cox Flexion Distraction- Decompression
Flexion Distraction helps decrease spinal pain, improve spinal range of motion, decreases disc pressure, helps reduce disc herniations, and decreases inflammation.
Rehab and Strengthening Exercises
This can include exercises and stretches to help improve flexibility and strength. It also involves techniques for pain management and inflammation.
Call Us and Begin Your Recovery Journey from Back Pain
Back pain can be a debilitating and frustrating condition, but there are many ways to manage it. Our treatment options at Pinnacle Chiropractic and Rehab in West Fargo, ND, include chiropractic care, rehab and strengthening exercises, and soft tissue therapies. Visit us or call us on (701) 532-1699 to schedule an appointment with our chiropractor.